Affordable Gold Subscription Service: Acre Gold Review
Acre Gold is a gold subscription service to easily grow their gold investment portfolio on an affordable monthly basis. Customer can easily grow their gold investment portfolio and have their gold bars or bullion shipped discreetly to their door.
With inflation consistently on the rise, more people invest in gold bullion. It is indeed a great solution against stock market volatility, but gold prices are not cheap. Acre Gold allows you to get your hands on gold through a monthly subscription, ideal for first time or even experienced gold investors.
Key Takeaways
Acre Gold is a monthly gold subscription service
They have a B- rating on BBB. Importantly they have replied to every BBB complaint
The cost of a monthly subscription starts at $50 per month for a 2.5g gold bar, $100 per month for a 5g gold bar, and $250 for a 10g gold bar
What Is Acre Gold?
Acre is a new precious metal brand company based in Santa Monica, CA and Boise, ID. Formed by a small team of fintech veterans, this company came up with a way to give its customers an easier experience of purchasing gold bullion on Acre Gold's website. They offer monthly subscriptions that allow consumers to buy physical gold bars for small monthly payments and after some accumulation, have their acre gold delivered discreetly and directly to their doorsteps.
Acre Gold exclusively deals in gold products. This means you can't find precious metals like silver, platinum, palladium, to purchase. Acre Gold focuses only on its gold products, and there has been zero complaints about that.
How Legit Is Acre Gold?
Acre Gold claims that its bars are 99.9%, which according to them, is the highest quality in gold purity. They're designed in California and minted in Switzerland. The gold bars are delivered in discreet packaging that is designed to reveal tampering. It comes with an indication of its weight and authenticity certifying assay card, protected with tamper-evident packaging.
Acre Gold is not accredited by the Better Business Bureau, also known as BBB, but has a "B- " in the BBB rating. According to their customer feedback, this company is a safe bet when it comes to purchasing gold within the gold investment industry.
How Does It Work?
Acre Gold works through a subscription based method to buy gold starting from a small fee. It is a fast and easy process ideal for anyone interested in investing in gold bar. Get your hands on acre gold with these four easy steps:
Sign up for an Acre Gold subscription and pay a one time membership for a small fee. Upon signing up for a monthly subscription of your choice, you're ready to start investing.
Kick-start your investment by being consistent with your subscription payments.
Wait until you meet the price threshold for buying gold based on the subscription plan of your choice. If the market value for a gold bar is low, then you may get it sooner.
Delivery is automatically processed by the company. However, you will need to take care of the shipping and fulfillment fees yourself to have this precious metal.
If you have the money but no time to wait, the Acre Gold website also offers a Buy It Now Bar that lets you buy gold in one go.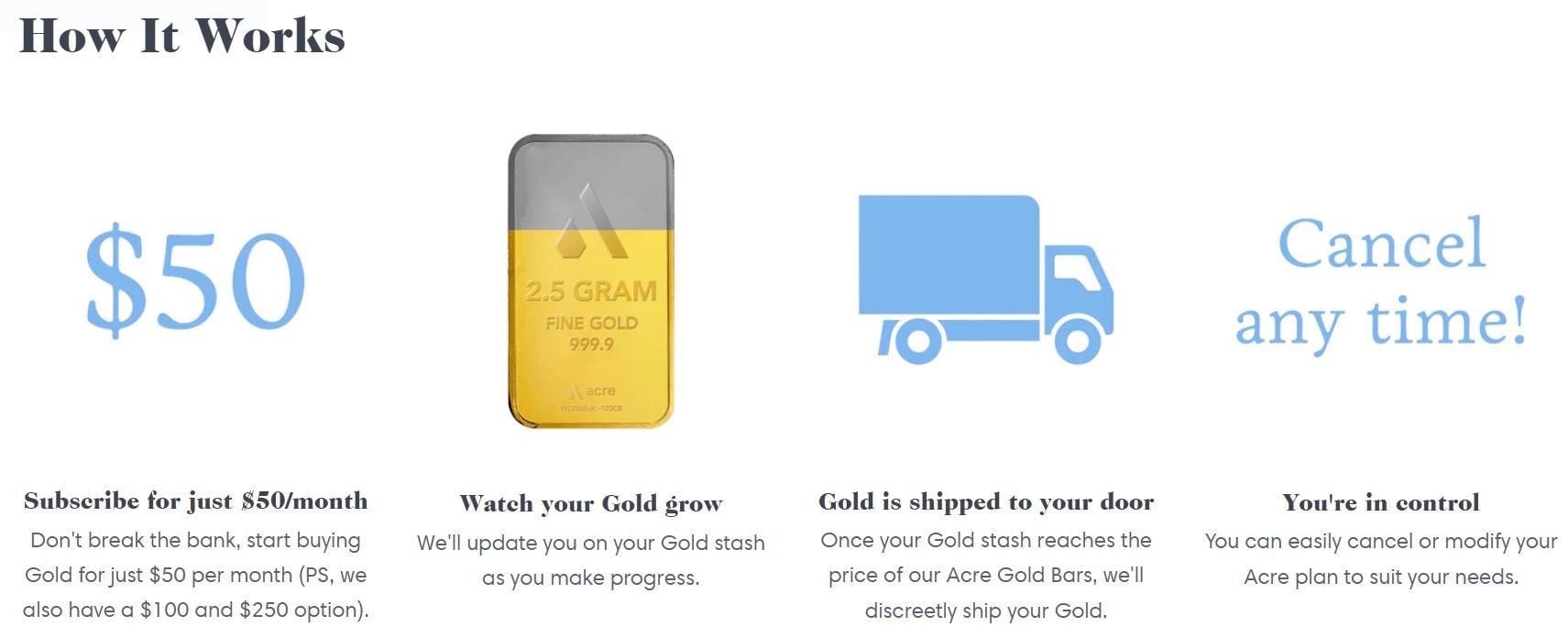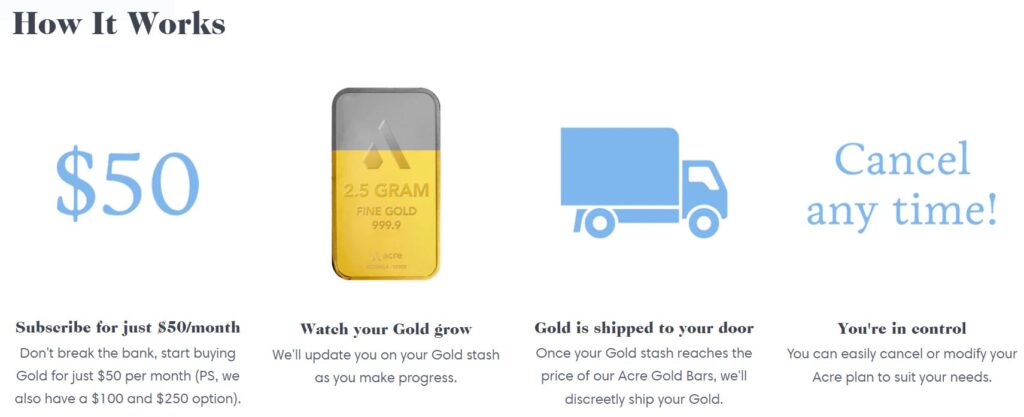 How Much Would An Acre Gold Cost?
You will first spend a one-time upfront membership fee of $12 then proceed to pay either $50, $100, or $250 depending on the subscription you're investing on. Your monthly payments will accumulate until your account reaches the price of the gram gold bar of your choice.
Because the spot price of gold shifts every month, it's hard to nail down how much an acre gold costs. It entirely depends on where the market price of gold is throughout your subscription. They ship you the gold bar every time your account hits the price threshold (less the shipping and fulfillment fee) and credit any remainder in your account to your next gold bar.
The Acre Gold team will happily respond to your emails, but one of the quickest ways to find out how much your gold will cost in current market conditions could be by reaching out to them through their social media.
There are plenty of examples of the team explaining how much gold costs.
Products
What's Included In The Subscription?
Acre gold lets customers choose a subscription service suited to their budget for gold investment that includes the following:
2.5 gram gold bar subscription: This comes with 2.5 grams of 99.9% gold with a single stamped Acre logo, tamper-evident packaging, and soft-touch box with a display drawer.
5 gram gold bullion subscription: This comes with 5 grams of 99.9% gold with a single stamped Acre logo, tamper-evident packaging, and soft-touch box with a display drawer.
10 gram bullion subscription: This comes with 10 grams of 99.9% gold with a single stamped Acre logo, tamper-evident packaging, and soft-touch box with a display drawer.
Acre Gold 9mm bullet (not an actual bullet): This comes with 33 grams of 99.9% pure 24k gold, tamper-evident packaging, lacquered box with suede lining
Progress reports: A monthly progress report is sent to you via email after each payment, and the first email you receive should include a link to the Customer Portal.
Customer portal: The customer portal will show your monthly payments, track gold shipments if there's any, and an option to cancel your Acre Gold subscription.
Customer support team: Acre Gold's customer service team can be reached through email and social media. Customer service support is very responsive on its Facebook page, and will give customer assistance and real-time pricing for its gold bars.
Acre Gold's Refund And Cancellation Policy
Refund Policy
Acre Gold's refund policy indicates that there are no refunds for physical gold that has already been delivered. So if the customer decides to cancel any time during the subscription, you can't get a refund on your gold bullion or send it back for refund. You can't get the money you invested back simply because you already have your gold on hand.
If you have a problem with your order, you can contact the company via Facebook or their customer service email address.
Cancellation Policy
Acre Gold outright says that you have full control over your subscription. You can easily cancel from their subscription or modify your investment strategy anytime. You can do whatever suits your needs.
For cancellation of shipping, you may be able to cancel by paying an extra fee of $20. For any problem or delay in delivery services, you are encouraged to contact their customer service team. This appears to be at the sole discretion of Acre Gold.
Pros And Cons
Pros
It is easy to sign up for a membership and subscription.
Acre Gold offers an affordable way to purchase gold over time.
The membership fee is only one time payment.
Acre Gold has a very responsive customer service, especially in their social media platforms.
They give their customers freedom to easily cancel their subscriptions.
Products that they deliver are packaged in protective "tamper-evident" display drawers that include the assay card.
Acre Gold's services allow credit card payment of swift and hassle free transactions.
Cons
They have $20 cancellation fee for canceled transaction or deliveries
They don't sell silver, platinum, palladium or other precious metal products.
Acre Gold does not ship beyond the USA.
Conclusion
People see gold bars as a new investment strategy to be used as a hedge against inflation. What Acre Gold offers is very ideal if you plan on getting your foot into the gold investment industry, because of its layaway type of purchasing. You pay a monthly subscription and eventually get the a=Acre Gold at a very attainable price. If you wish to subscribe to their services, it is also very easy to secure a membership for a very affordable one time payment of $12. You are then presented with options on how you wish to proceed with your acre gold subscription from 2.5 gram gold bars to 33 gram gold bullets. Aside from the monthly subscription, they also offer gold bars you can buy asap.
In this Acre Gold review, we recommend their services. Even though the cost in total would be more compared to their other competitors, it still caters to other people who wish to purchase gold in an easy and more passive way. It's possibly another option for your retirement plans.
FAQs
Is Acre Gold Legit?
Acre Gold is not accredited by the Better Business Bureau, also known as BBB, but has a "B- " in the BBB rating. According to their customer feedback, this company is a safe bet when it comes to purchasing gold within the gold investment industry.
How Long Does It Take To Get A Gold Bar From Acre Gold?
Even though the market value of a bar of gold constantly fluctuates, you will typically have accumulated enough in your account to receive your first bar after three months.
Is Acre Gold's Pricing Fair?
Acre Gold's pricing is fair, as its starting membership fee of $12 could fit into most people's budgets, especially the new investors. Most gold, silver and precious metal brokers will not pay the spot price without attempting to at least add a top up for their own profit.
The gold market is full of companies trying to sell gold at very cheap and affordable prices, but you can't always be too certain of the quality you're getting with all these options — especially if you're buying gold, silver and other precious metals at mint shops and pawn shops.
Acre Gold offers an alternative that might cost more than some of its competing companies because of its layaway method, but it could be a more attainable and reliable way to purchase acre gold bars.
How Is Acre Gold's Customer Service?
There are multiple routes to get in touch with their customer service at Acre Gold, and it's through their social media and email address displayed at the bottom of its website home page. Customer feedback shown on their website expresses the satisfaction of people regarding their customer service team's responsiveness and effectiveness in helping address concerns.
The owners of this website may be paid to recommend Birch Gold Group. The content on this website, including any positive reviews of Birch Gold Group and other reviews, may not be neutral or independent.
Get Acre Gold
A new way to buy gold

Subscribe & gold is shipped to your door

Watch the value grow