Money Metals Exchange is one of the leading online bullion exchange dealers in the United States. Money Metals LLC's headquarters is in Eagle, Idaho, United States.
Key Takeaways
Money Metals Exchange is bullion exchange dealer and deals in precious metals such as gold, silver, platinum, IRAs, coins and other investment commodities.
The company has a 4.32 / 5 rating on BBB at the time of writing.
The offer free shipping on orders
The provide pre-packages portfolios making it easy to purchase precious metals investment options
Bullion investing has served as a safe hedge against inflation for years.
As a result, more people are pivoting to precious metals coins as a safer long-term investment. If you are one of them, this review is the perfect guide to one of today's bullion dealers – Money Metals Exchange.
So what is Money Metals? Are they a reputable company? How is their customer support? Do they have a buyback program? Should you invest with Money Metals Exchange?
In this comprehensive Money Metals review, I will cover all the essential aspects you need to so you can ultimately decide if this is an investment option for you at all.
Let's dive in!
What Is Money Metals Exchange?
Money Metals Exchange is one of the leading online bullion exchange dealers in the United States. Money Metals LLC's headquarters is in Eagle, Idaho, United States.
The company helps clients buy, sell and own precious metals such as gold, silver, copper, palladium, platinum, and rhodium, among other numerous coins and bars approved to be held in a Precious Metals IRA.
They also offer direct storage options and loans against gold and silver bullions.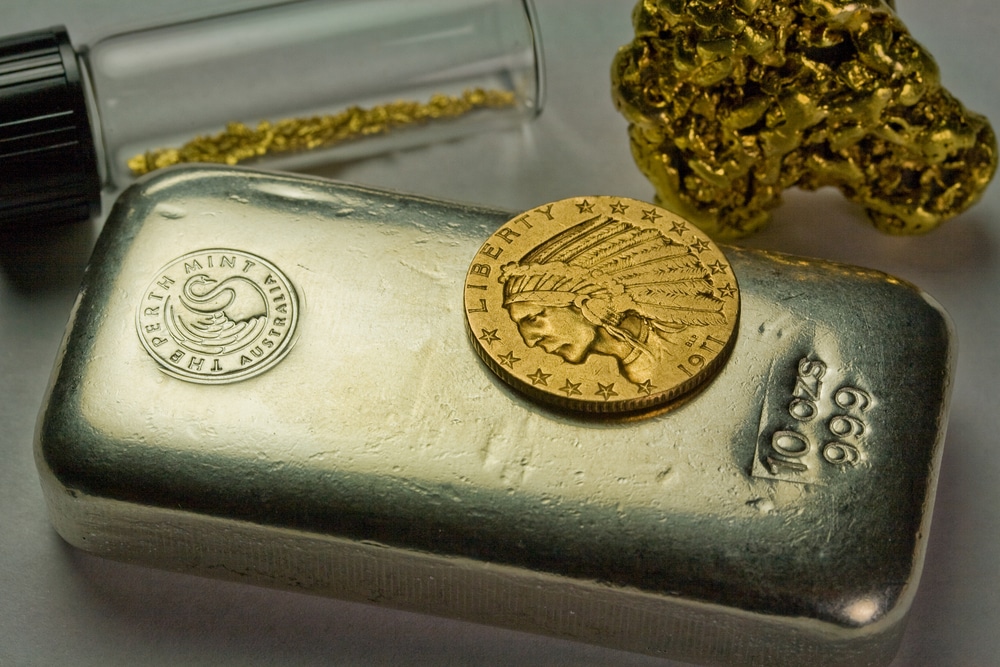 Money Metals Exchange At A Glance
Stefan Gleason created the money metals exchange in 2010 as a direct response to misdirecting advertising of "rare," collectible, and numismatic coins, which in most cases had a ridiculous mark-up margin above their actual melt value.
By removing the bait and switch pricing strategies used by intermediaries, Money Metals Exchange fends off high mark-ups making it easy for customers to protect their investments from financial chaos. This allows investors to purchase precious metals at a lower, affordable price.
Products offered:
Gold – American Eagles, Gold Austrian Philharmonic, American Gold Buffalo, Gold Canadian Maple Leaf, Gold American Eagle, Gold Australian Kangaroo, Mexican gold centenarios, and European Gold Bullion. Additional gold is available as coins, rounds, fractionals, bullets, and bars in various weights.
Silver – US Mint Silver Eagles, Silver American Eagle, America the Beautiful, and Silver Maple Leafs coins. They also offer a lot of other silver rounds, fractionals, bullets, and bars in various weights.
Platinum – American, Canadian, and Australian coins with bars of various weights.
Copper – Includes rounds, bars, and pennies. They also offer the top preferred copper products –Peace Rounds, Morgan Heads, and Buffalo Rounds.
Palladium – Palladium American Eagle, Platinum Britannia and Maples, and bars of various weights.
Rhodium – Available in 1- and 5-ounce bars.
Money metals exchange Pros and cons
Pro's
A relatively easy-to-navigate website. Everything is pretty straightforward and well placed on the website. It's easy to find the necessary information without scrolling all over the place.
Safe & Secure. Money metals insure all orders. Their website also uses The site uses DigiCert SSL encryption to protect customers' data during the sign-up and checkout process.
Live chat. The live chat feature on their website makes it easy for anyone to get in touch with customer service regarding any questions quickly.
Real-time pricing. Money metals exchange provides live pricing data information, which is crucial to market participants. You can also customize price alerts on their website.
State-of-the-Art depository. Customers can ship and store their orders in a secure storage depository account.
Pre-packaged portfolios. Premade portfolios are an excellent option for people new to bullion investing. The company offers premade silver, gold, and multigram precious metals portfolios.
Extensive Resources. You can access educational materials, infographics, precious metals podcasts, and live and historical precious metal prices on their website.
Assurance aghast counterfeit coins.
Cons.
An additional 4% transaction fees when paying through PayPal or credit card.
Limited support. They offer customer support only during weekdays, 7:00 a.m. – 5:30 p.m. Monday – Friday (MT) and 7:30 a.m. – 3:30 p.m. Saturday (MT).
Limited payment methods due to set minimums and maximums.
Money Metals Exchange Starter Kit
Money Metals Exchange premade portfolios are designed to out the guesswork on what metals to buy. They are well suited for beginners who want to kickstart their precious metals investment on the right track.
Here are 6 of their starter kits;
9-Piece Silver Starter Kit
starts at $125.31 and contains
(1) American Silver Eagle 1-oz coin
(1) Canadian Silver Maple Leaf 1-oz coin
(1) Walking Liberty 1-oz round
(1) Walking Liberty 1/2-oz round
(5) Walking Liberty 1/10-oz rounds
Patriot Silver Kit
starts at $137.11 and contains;
(1) 1 Oz Silver Bullet
(5) 1/10th Oz Walking Liberty Rounds
(1) 1 oz American Silver Eagle Coin
(1) Half Oz Paul Revere Round
(1) 1 Oz Don't Tread On Me/Tea Party Silver Round
Gold/Silver Investment Portfolio
starts at $6,100.05 and contains.
1.1 ounces of gold, including (1) 1 Oz American Eagle and (1) 1/10th Oz American Eagle.
One hundred twenty ounces of silver, including (50) 1 Oz American Eagles, (50) 1 Oz Walking Liberty rounds, and (200) 1/10th Oz Walking Liberty Rounds.
Gold/Silver Starter Portfolio
starts at $485.71 and contains;
8.575 ounces of silver; (5) 1 Oz Walking Liberty silver rounds, & $5 Face Value Pre-1965 Dimes or Quarters.
(1) 1/10th Oz gold American Eagle coin.
PAMP Multigram+25 Gold Bars – Qty 25 1g Bars
starts at $1,749.30.
Contains qty 25 each 1-gram gold bar in .9999 fine gold.
Multigram Portfolio – Qty 16 2.5 Gram Bars, 4 Ea in Gold, Silver, Platinum & Palladium.
starts at 1,914.36 and contains;
bars of each metal in the barter-ready 2.5-gram size.
Experienced investors can also use the starter kits as a quick way to add to their holding portfolio.

How Does Money Metals Exchange Work?
Buying from money metals is an easy process.
Start by choosing your preferred product from the product categories at the top of the Money Metals website. Select the quantity you want and add it to cart.
You can check out as a guest, meaning you don't necessarily have an account with MME, or you can log in and check out as a user.
Once you initiate the checkout process, the price of your money metals exchange order will be locked in for 10 minutes to allow you to process the payment.
Money Metals Exchange's Prices
Purchasing precious metals from Money Metals is slightly more expensive compared to competitors. However, this also gives an advantage to those looking to sell their bullions as it means they can get better sell prices.
What payment methods can I use in money metals exchange?
According to finder. com, money metals exchange offers the following payment methods:
Payment Method Minimum Maximum Processing time
ACH transfer $0 $575 7–10 calendar days
Cryptocurrency $0 $200,000 1–2 calendar days
Credit or debit card $0 $575 1–2 calendar days
Money order $0 $25,000 7–10 calendar days
PayPal $0 $575 1–2 calendar days
Personal check $0 $25,000 7–10 calendar days
Wire transfer $3,000 $50,000 1–2 business days
Storing Your Bullion and Fees.
For clients seeking a place to store their precious metals outside their homes, Money Metals Exchange protects and holds investors' precious metals in its own insured and IRA-approved Money Metals depository buildings with UL Class 3 vaults.
They also have a custodian partnership with New Direction Trust Company which allows customers to store their precious metals in either of the following depositories;
Delaware Depository.
Loomis International.
CNT Depository.
Dakota Depository.
International Depository Services Group.
All the accounts in storage at the depository are fully insured by Money Metals Exchange's Lloyds of London insurance policy to protect your investment in the event of any unforeseen circumstances.
The storage fees are billed quarterly, and the total annual amount depends on the value of your holding. For holding values above $3 million, contact Money Metals Exchange directly.
Below is a quick storage fee pricing guide;
Holding value. Annual fee.
Up to $15,999 $96
$16,000–$99,999 0.59%
$100,000–$999,999 0.49%
$1 million–$2.9 million 0.39%
For holding values that exceed $3 million, the client has to contact Money Metals Exchange directly.
Money metals exchange complaints & reputation
Money metals exchange boasts of an "A Plus" rating from the better business bureau, a CCC from Business Consumer Alliance, and an A Plus rating from Scam Report.
Their Facebook page also has a 4.6 out of 5 based on the opinion of 194 people as of 7th July 2022. Check here.
While there are a few negative money metals exchange reviews, as expected with any business, the positive reviews could be a good indication of a trusted, reputable precious metals and gold ira company.
The main complaints leveled against them are mainly related to processing shipping. Most people have shared their experiences and complaints of intermittent shipping delays.
However, it is always best to speak with a money metals exchange rep about their processes for a clear answer.
Money Metals Exchange Customer Service
Money metals customer service representatives can be reached by phone, email, or live chat.
Their team is knowledgeable and responsive and will help guide you through the entire process, from funding the account to metals prices and storage and everything in between.
money metals exchange phone number – 1-800-800-1865
money metals exchange address – Money Metals Exchange, PO Box 2599, Eagle, ID 83616
Does Money Metals Exchange Accept Returns?
Money metals exchange will only accept returns initiated within three days of delivery.
If you purchased a physical metal and want to return it, you will be required to return the product in its original packaging.
You also have to pay for shipping which could attract an additional 5% stocking fee if paying through PayPal or with a credit card.
NOTE: You are responsible for any market losses incurred if the price of your item(s) in the market is down from what you initially paid for during the return process. This means the refund could be of a lower value.
Call customer service at 800-800-1865 to initiate/facilitate a quick return or exchange.
Money Metals Exchange Buyback Program
If you are looking to sell silver bullion, silver coins, silver bars, platinum, palladium, or gold bars, money metals offer some of the best payouts – usually at the current spot market price or above-average prices.
They will buy any of the precious metals products they offer for sale on their website from you, regardless of whether you purchased from them.
However, you must have an existing transaction history for them to buy from you.
Steps to Sell Your Precious Metals to Money Metals Exchange
Login to your account and navigate to any of the company's product pages. One
Scroll down below the image and click on the "Click Here to Sell to Us" button. You can also call them to lock a sale over the phone.
Your agreed buyback price is then locked in, and a Purchase Order is sent to you for sales below $50,000.
For more significant sales than $50,000, the spot market price is only locked in after you ship and provide them with the shipment tracking number. NOTE: They still confirm (over the phone) a discount or a premium spot market price that will be paid to you.
Requirements For Selling To Money Metals
The products MUST be in good condition. You may reach their customer rep via live chat, email, or phone if you have any questions or need help evaluating the condition of your items.
Bars must have the original manufacturer's name and/or insignia.
Rounds and bars should be clearly marked with their respective weight and purity.
The item you sell must match one of the products on their website, except for coin dates.
Other items not listed on the Money Metals Exchange website can also be sold, but after a discussion over the phone with the company's customer rep.
Pre-1965 Dimes, Quarters & Half Dollars (Junk Silver). The dimes should be identifiable as having been minted before 1965.
Fill in any voids in the packaging to avoid rattling around inside the box. Seal and secure the package with packing tape.
Send your order. The shipping instructions are usually provided to you by email.
Shipping to MME is through US Postal Service. You are also required to insure the package for its total value.
Money metals will send your payment immediately after receiving and inspecting your shipment.
Verdict.
Overall, we rate them safe.
While no precious metals company will ever be "perfect," we've found money metals to be legit. You might find other options that offer you better deals, but it will all come down to your preference and how comfortable you feel about the company.
If you want to diversify your portfolio or get started with a gold or silver IRA, the money metals exchange is a fairly easy platform to begin with.
They display real-time prices of precious metals, making it easy for investors to decide what to buy. They also have an extensive bullion-related content and market analysis database and a relatively straightforward process for purchasing coins.
With over ten years and minimal complaints, they stand out as a respectable and well-established company.
We hope this money metals review has been helpful. If you choose to buy Money metals products or have a previous experience with them, please feel free to leave your comment below.
Money Metals Exchange FAQs
What types of cryptocurrency does Money Metals Exchange accept?
Bitcoin
Bitcoin cash
Bitpay
Dash
EOS token
Ethereum
Litecoin
Ripple
What does Money Metals Exchange sell?
Money Metals Exchange features a vast range of common premium precious metals. You can buy their silver, gold, and silver bullion coins, fractionals, coins, and bars in various weights.
While most of the items listed on their website are "Out of Stock," they have a vast inventory that includes rhodium and copper, giving you many options on what to invest in.
Does money metals report to IRS?
No, money metals have no obligation to voluntarily disclose your data to any third parties, including the government or law enforcement agencies. For them to share any information about any client, there would have to be a valid search warrant.
However, because precious metals are considered to be property, you are expected by the IRA to accurately report any capital gains or losses measured in fiat dollars when you sell any of your bullion products. According to Investopedia, you are required to file your report on Schedule D of Form 1040 on your tax return.
The owners of this website may be paid to recommend Goldco. The content on this website, including any positive reviews of Goldco and other reviews, may not be neutral or independent.
Live Precious Metals Prices
Money Metals Exchange
A unique way to own physical gold

Buy precious metals

Sell Your Gold Or Silver

Monthly gold & silver savings plans
Ahh, Idaho … the 'Gem State.' There is nothing far off the beaten path about Idaho's popularity as ...
Read More

→
The idea of retirement income likely evokes both excitement and anxiety – excited about a future of leisure ...
Read More

→
For many retirees, the ideal retirement involves the freedom to explore a life of leisure in a locale ...
Read More

→