Are More Americans Buying Gold & Silver Due To Inflation?
Key Takeaways
70% of Americans consider inflation a problem
9.4% have recently diversified into gold and precious metals
Inflation rose quickly in 2022 and continues to increase at a rapid pace. So rapidly that a recent survey of U.S. adults by the Pew Research Center shows most Americans are citing inflation as the biggest problem in the country–and some are turning to gold and silver to safeguard their financial security.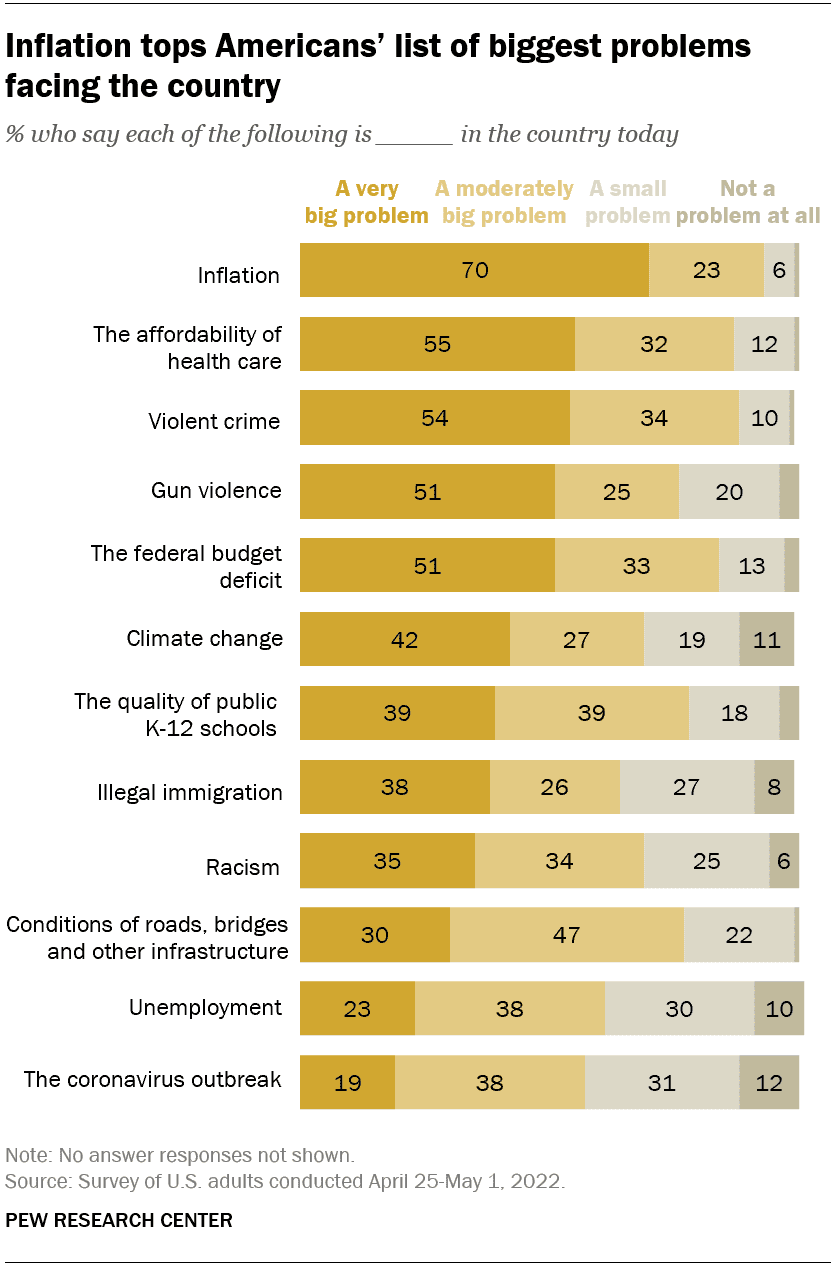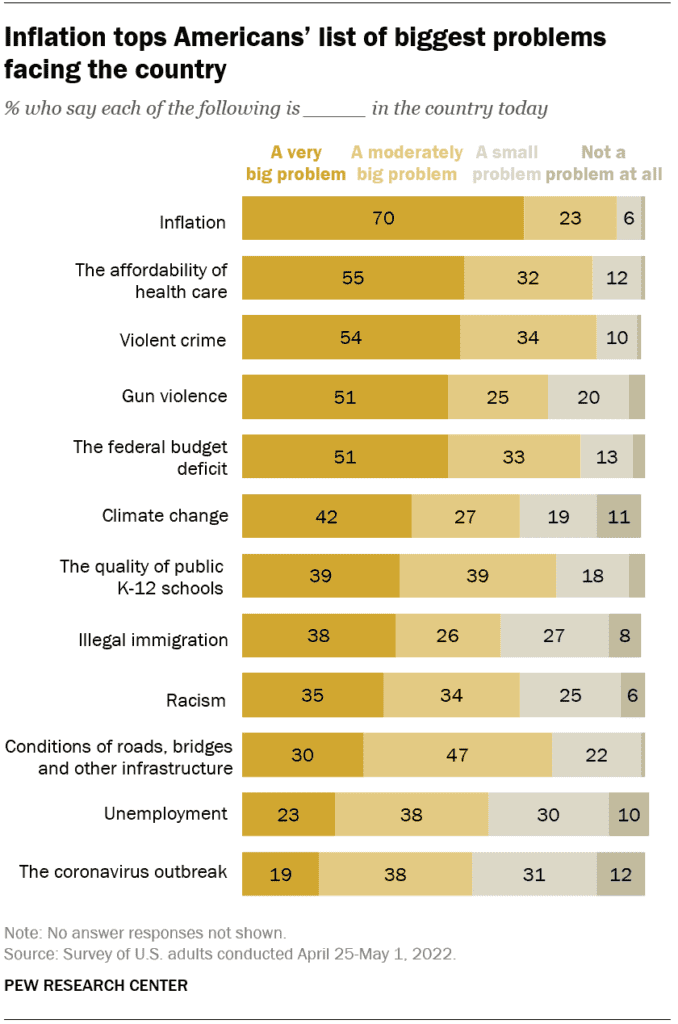 (Pew Research Center, Inflation tops Americans' list of biggest problems facing the country)
A 2022 survey conducted by Gold IRA Guide, a trusted gold investing magazine, found that 9.4% of Americans have recently diversified their portfolios with precious metals to hedge against inflation.
In fact, according to the survey, precious metals investments are the most favored method for Americans to expand their financial portfolios. More Americans have newly diversified their holdings with precious metals investments than with cryptocurrencies or real estate.
With the recent rampant inflation and supply chain and labor issues still reverberating through the economy, it should come as no surprise that many Americans are re-evaluating their financial situations and trying to find new ways to hold onto and grow their wealth.
But why are they turning to gold and silver?
Silver and Gold and Celebrities
While there aren't hard and fast numbers on how many Americans invest in gold and silver, it may be becoming more widespread in the U.S. partially due to media attention.
In recent years, numerous prominent celebrities and podcasters, including stars like Chuck Norris and Joe Montana, have extolled the virtues of purchasing gold, going so far as to promote specific precious metals IRA companies.
Joe Montana, for example, promotes Augusta Precious Metals, a gold IRA company.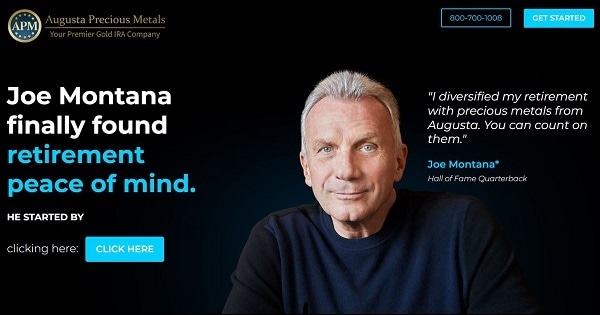 According to the former NFL quarterback's statement on Augusta's website, the company's director of education taught him "that precious metals have the potential to offset portfolio losses due to inflation and devaluation of currency."
Political and media figures like Sean Hannity and Bill O'Reilly have also encouraged gold investment.
With precious metals racking up celebrity endorsements and getting a lot of time in the spotlight, it's not exactly surprising that gold and silver investments and precious metals IRAs have become a trendy topic.
However, even before the pandemic and its economic effects, Americans reported holding a substantial amount of precious metals. A 2019 survey by Gold IRA Guide revealed that 12% of Americans owned gold, and 14.7% owned silver.
Planning for the Future with Precious Metals
Celebrity support could be one reason why dabbling in gold and silver has become more mainstream, but it's not the only one.
Precious metals have historically been a stable investment during times of inflation and economic turmoil, and there can be many advantages to investing in a precious metals IRA or physical precious metals, including the potential for inflation protection and the ability to diversify your retirement portfolio.
Benefits of Owning Gold and Silver
Diversification is key to any investment strategy, and owning precious metals can be a way to ensure you are prepared for whatever the future may hold. With precious metals investments, Americans are looking to the future and taking their financial security into their own hands.
For example, despite oscillations in the economy, gold has seen significant increases in price over the last few decades, and especially over the last few years. As noted by the U.S. Bureau of Labor Statistics, gold prices rose dramatically between 2008 and 2012, when the economy was most affected by the Great Recession.
According to BLS, after rising 2.6 percent in 2008, the price index for gold increased 12.8 percent in 2009. Then, from September 2010 to September 2011, gold prices
jumped 50.6 percent because of speculation about an uneven recovery and volatile U.S. financial markets.
The same pattern emerged during the 2020 COVID-19 disaster and economic meltdown. In 2020, gold prices hit an all-time high of over $2000 per ounce. Then, gold hit new highs again in 2022, reaching $2,074.
Record prices can mean a substantial return on investment for gold investors. And since gold and other precious metals don't accrue interest, this price rise is essential to anyone looking to sell.
Isn't Interest Key to Investment?
Gold doesn't accrue interest, but it can still be a vital investment. It is known as one of the best safe haven assets to own during times of market fluctuations or inflation since it typically doesn't lose value as easily as cash or stocks.
That said, gold is not a perfect inflation hedge. There are times when inflation goes up, and the price of gold goes down. For example, when interest rates rise.
The relationship between gold prices and interest rates is complex, but when interest rates rise, gold prices generally fall, and when interest rates fall, gold prices rise.
When interest rates are high, investing in gold is typically less attractive because other investments may offer a higher rate of return. And when interest rates are low, it becomes more attractive to invest in gold because of its potential.
So what does this mean for the future of gold and silver prices?
It's difficult to predict the future of precious metal prices with any measure of certainty. Prices depend largely on the economy's performance, the inflation level going forward, and future interest rate hikes. Many experts will tell investors, though, that gold is excellent for portfolio diversification in most scenarios, and it's usually an ideal investment during times of uncertainty.
A shaky economy and relentless inflation have already caused many Americans to purchase precious metals, and even more Americans will likely be owning gold and silver in the years to come.
The owners of this website may be paid to recommend Goldco. The content on this website, including any positive reviews of Goldco and other reviews, may not be neutral or independent.
Live Precious Metals Prices
Ahh, Idaho … the 'Gem State.' There is nothing far off the beaten path about Idaho's popularity as ...
Read More

→
The idea of retirement income likely evokes both excitement and anxiety – excited about a future of leisure ...
Read More

→
For many retirees, the ideal retirement involves the freedom to explore a life of leisure in a locale ...
Read More

→