Is It Possible To Have More Than One IRA Account?
It's vital to understand that there is no limit to the number of IRAs (individual retirement accounts) a person can own. However, it doesn't matter how many accounts an individual has; their total contributions for 2022 can't exceed the Internal Revenue Service yearly limit.
Should a Person Have Multiple IRAs?
There are a few reasons why someone might not want to use multiple IRAs. It can be challenging to plan for retirement, plus reviewing performance across many accounts can make people's lives unpleasant. Another thing that makes owning multiple IRAs difficult is making it more challenging to maintain an asset allocation that is in line with your goals and IRA contribution limits. Staying in check with the regulations set out by the Internal Revenue Service is vital if you want to avoid penalties.
Something crucial to remember is your IRA assets are there to assist with multiple required minimum distributions when you are ready, such as:
Wealth transfer
Tax efficiency
Long term growth
Steady income
Qualified withdrawals
If someone holds IRA accounts from a previous job or an employer-sponsored retirement plan, they can decide what to do with those assets, including converting them into an IRA. A person's IRA rollover or retirement plan may not reflect their personal risk tolerance and goals unless the account has been rebalanced recently.
It may be a good idea to consolidate some of these accounts or traditional IRAs to be better aligned with your goals.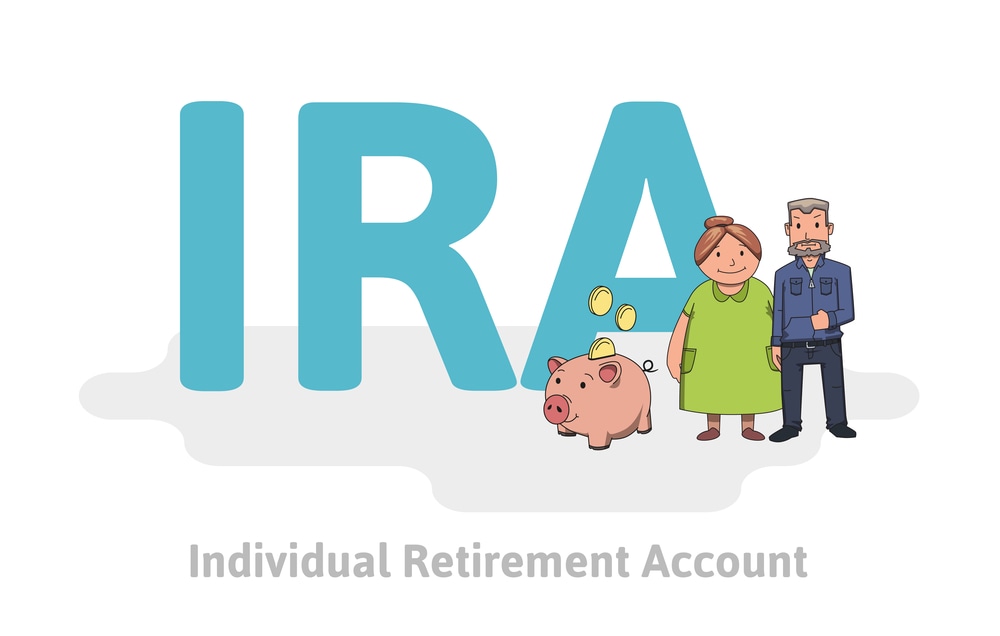 Is It a Good Idea to Have Both Roth and Traditional IRAs?
If each IRA has different features or advantages, it may make sense to own multiple IRAs. Since you can receive potential tax-free distributions from a Roth IRA, adding money to a Roth account may be wise. You need to check with your account management service to see if you are in the lower tax-free bracket or think you may be in a higher one during retirement.
However, people in a higher tax bracket typically prefer to bring their current taxable income down, especially if they have a conventional IRA. If someone participates in an employer-sponsored retirement savings plan, contributions to a traditional IRA are phased out because the person is no longer eligible. This is based on (MAGI) modified adjusted gross income that corresponds to a person's federal tax filing status and is published annually.
If you want to bring your current taxable income down, a traditional IRA may be a better option if you are in a higher tax bracket. Their annual contributions are not tax-deductible and are made with after-tax dollars if someone is eligible for a Roth IRA. Immediate tax deduction or an upfront tax break with tax-free withdrawals are only allowed if you follow the rules set out by the Internal Revenue Service.
Does It Make Sense for Married Couples to Have Multiple IRAs or a SEP IRA?
Like single filers, everyone should remember that married couples and spouses can have multiple accounts. It's important to note that jointly owned retirement accounts are not allowed.
One spouse can contribute to both accounts, or you can each contribute to your own IRA. If someone wants to take advantage of a spousal IRA, they need to be married to file a joint tax return. An IRA arrangement like the above confirms that the spouse that contributes to a Roth IRA has sufficient taxable compensation and is working. If all is in order, the person can take advantage of the rewards and reap the full benefits of owning an IRA.
The total contributions cannot exceed double the annual contribution limit or joint taxable compensation on IRAs, whichever is less.
What Are the Retirement Benefits of Multiple IRA Accounts?
Tax Diversification
You will be able to take advantage of the different tax benefits each account provides by contributing or opening a traditional or Roth IRA. It would help if you remembered that contributions to a conventional IRA give you an upfront tax deduction and are made pre-tax. In contrast, Roth contributions are made after-tax and don't offer people an immediate benefit.
If you don't want to pay taxes on your Roth withdrawals, you will need to wait until 59 1/2 years of age to avoid incurring those penalties. What is crucial to remember is that you will still owe taxes on what you take out of your traditional IRA or other accounts.
Various Investment Approaches
People who want to implement different investment and deposit accounts or strategies may do it for financial planning. You could fill your desires by opening an account with an online broker or starting an IRA with a Robo advisor that takes a low-cost approach to build a portfolio through ETFs. Whatever you decide to do is okay as long as you are happy with the decision.
With this approach, you can invest while splitting your contributions to help you stay on track for your long-term goal.
Withdrawal Options
By having both a Roth or traditional IRA, people can also benefit from each account's various rules regarding withdrawals.
If you want an account that allows contributions to be withdrawn without a penalty, it may be good to check out a Roth IRA. There are instances where the penalty is waived, but generally, a person will owe a penalty if they make an early withdrawal from a traditional IRA.
While you never have to take required minimum distributions from a Roth IRA, a traditional IRA requires you to take money out beginning at age 72.
Extra Insurance Coverage
Thanks to the Securities Investor Protection Corporation (SIPC) and the Federal Deposit Insurance Corporation (FDIC), you are covered even though bank and brokerage failures are rare. The SIPC protects you for up to $500,000, while the FDIC has a maximum coverage of $250,000.
However, if the same firm holds both your traditional IRA and Roth IRA, both accounts will be covered for $500,000. Remember, investment losses are not covered under this type of insurance.
Simplified Beneficiaries
It can be simpler for your heirs if they are listed as a primary beneficiary on a separate IRA account, even though you will name the beneficiaries to your IRA accounts when you sign up. If others are listed as fortuitous beneficiaries, and one person is the primary beneficiary, it could create problems and tension when the estate is being settled. By owning multiple accounts, people can mitigate this issue and bring peace to their families after passing.
What Are the Downfalls of Multiple Roth IRA Contributions?
Complexity
It's no wonder that people don't like to own more than one IRA account; the complexity and paperwork that comes with it can be challenging to complete. Each account will have its own set of tax issues, investment options, and disclosure forms. It is a hassle to manage, but the best thing is that most of the above documents can be completed online.
When you have multiple accounts at different firms, it may also become challenging to get a picture of your overall portfolio. If you're trying to understand if you have too much exposure to one area or are sufficiently diversified, combining your retirement account is the best way to get a complete picture of your current financial situation.
Expenses and Fees
Be careful that you aren't paying more in fees than getting benefits from having multiple accounts, as there can be prominent account fees related to having an IRA at some firms. Costs can keep you from achieving your goals because they eat into all your IRAs over time.
Consider not opening multiple accounts at an expensive firm or moving your money to a firm where the fees are lower if your account fees are high, especially if you have little or no income.
Deciding on the Correct Type of IRA
Financial decisions such as how many IRAs to open, how to achieve the financial position desired in five years, how much to contribute to retirement plans, and where to invest money are not tiny decisions. They are best made after scrupulous evaluation and thought of your current financial status.
You may discover that talking to financial advisors gives you more insight into your current financial situation. These individuals are experienced with the Internal Revenue Service code of conduct. They can show you expert ways to make contributions each year, grow tax exemptions, impact how you handle your money, and reduce fees when you contribute to a Roth IRA.
It is easy to calculate your taxable compensation when you know what certain tax breaks are available to you and if your income exceeds a particular limit. Financial advisors can help you reach your Roth IRA contribution goals each year to benefit when you retire at 59.
A key factor to consider when deciding which IRA retirement plan to open includes whether or not your spouse has income in the case of married couples. Other questions include, what is your payment per year, what tax benefits come with the account, and do you get any tax breaks?
You can better understand which account to choose for the best tax deduction and retirement savings options by answering the above questions.
Conclusion
Roth and Traditional IRAs are a terrific tax-deductible way to grow your wealth tax-free. It is good to consider IRA contribution limits before deciding on a broker or bank to open IRA accounts with.
Take a look at the tax advantages, tax-deductible contributions, and annual contribution limits on all your accounts. A retirement account is one of the best ways to secure your and your heirs' future.
Frequently Asked Questions and Answers
What Is the Best Number of Roth IRAs for You?
Having a traditional or Roth IRA, both have significant benefits. A Roth IRA allows you to make tax contributions while in the lower tax bracket early in your career. If something unexpected arises, you will also have the flexibility of early withdrawals.
People looking to lower their taxable income by making pre-tax contributions should consider a traditional IRA for its great value. A traditional IRA also allows you to roll over money from 401 k's from previous jobs or employers. Keeping your money in the employer-sponsored plan will limit your investment strategies, so checking out an IRA account may be better.
You may also consider opening an account for your spouse if they don't already have one, especially if you are married. A person and their partner can contribute to a Roth IRA, though a retirement account or simplified employee pension can't be connected.
Even if your spouse has no income or makes very little, you can add spousal IRA contributions, allowing you to grow your retirement saving exponentially.
Can Someone Have a Traditional IRA and a 401k?
Once again, it is suggested to have more than one investment account, which is most definitely possible. You can have 401k'sand Roth IRAs at the same. Ensuring that the Internal Revenue Service knows any traditional IRA contributions or separate individual retirement accounts cashouts is essential.
Doing the above allows people to enjoy the best of both worlds if their income exceeds a particular tax bracket. Additionally, holding both accounts will increase your retirement savings plus benefits and contributions limits.
If someone is considering opening both a 401k or IRA, they will be faced with deciding which one to contribute to first. The former retirement plans are often initiated and sponsored by their employer, with IRA accounts being opened by the person using either a broker or a bank.
One of the primary benefits of a 401k is that it lets people contribute more funds annually. On the other hand, you can place a variety of investments in your retirement plan basket with an IRA. Something important is to check how long your employers can hold your 401k before you decide to leave the company.
In order to choose which account to invest in first, you must look at whether or not your boss offers an employer-sponsored retirement plan with matching contributions. If your employer does offer the above, it may be a better option to invest in an account to maximize your financial gains. Once that is complete, you can use the rest of the year's money to fill your contribution limits.
It may be better to use the various investment opportunities offered and contribute towards the IRA first when the employer doesn't match the employee contributions towards the sponsored retirement plan. You may also be interested in our guide to saving for retirement if you're self employed.
The owners of this website may be paid to recommend Goldco. The content on this website, including any positive reviews of Goldco and other reviews, may not be neutral or independent.
Live Precious Metals Prices
Ahh, Idaho … the 'Gem State.' There is nothing far off the beaten path about Idaho's popularity as ...
Read More

→
The idea of retirement income likely evokes both excitement and anxiety – excited about a future of leisure ...
Read More

→
For many retirees, the ideal retirement involves the freedom to explore a life of leisure in a locale ...
Read More

→