Gold EFTs – Are They Backed By Physical Gold?
Gold, a precious metal that has been used as a form of currency, resource, and investment vehicle for centuries, is still a preferred commodity among investors as it serves as a hedge against inflation, deflation, and currency devaluation. It also functions as a "safe haven" amid economic turmoil.
The gold market is extremely liquid, and consumers can obtain access to gold using various means. This includes purchasing this precious metal in the form of physical gold bars or coins and investing in an exchange-traded fund.
Investors use gold ETFs to monitor and reflect gold prices. While the fund's assets are indeed backed by physical gold, it is not intended for investors to own the precious metal. Instead, investors can obtain exposure to gold's profitability, or price fluctuations, by purchasing a gold ETF. Also see our article on how you can benefit from a gold IRA.
What Is a Gold ETF?
A gold exchange-traded fund (ETF) is a commodity ETF. These financial products allow people to invest in gold without physically buying, holding, or selling it. They are like stocks in that they trade on the stock market.
If you're wondering, "Are gold ETFs backed by physical Gold?" The answer is yes! ETFs have gold derivative contracts that are indeed backed by gold. This means that when you invest in an ETF, you don't own the physical commodity.
Many gold ETFs monitor the price of gold, whereas others involve investing in businesses in the gold mining industry.
Like other forms of ETFs, the company that issues these ETFs purchases stock in gold-related businesses or acquires and holds physical gold bullion. Participants purchase shares in the fund, which fluctuate in value according to the price of the underlying gold or the price of the company's stock.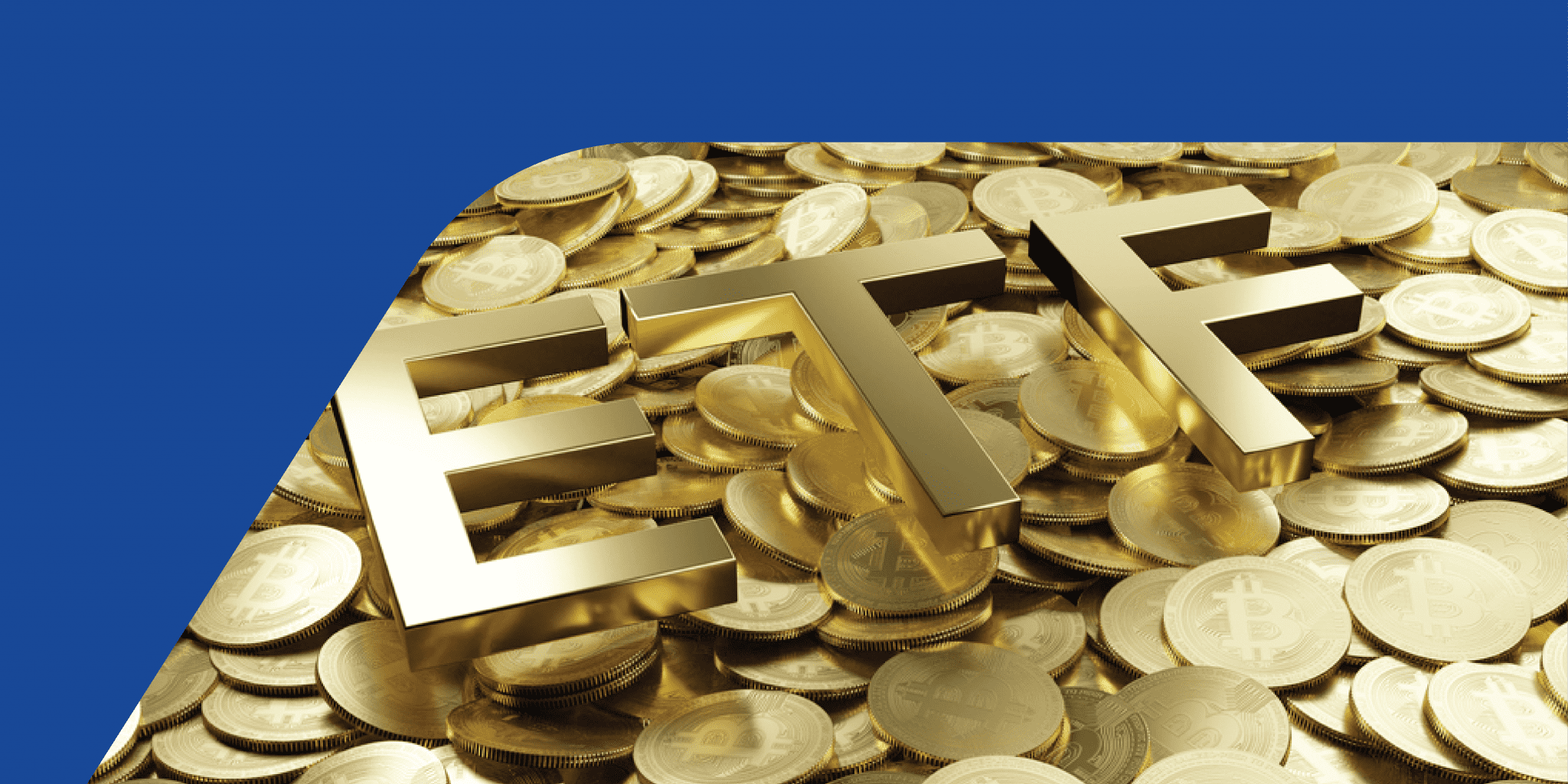 How to Use a Gold ETF
Numerous gold investors make use of gold exchange-traded funds to protect against political and economic upheavals, as well as currency debasement because they have many defensive-asset-class characteristics that are similar to bonds.
When the value of the dollar is low, gold tends to increase in value, so if you have commodities in your investment portfolio that are vulnerable to the currency's decline, buying an ETF could help you offset that risk. On the other hand, selling a gold ETF can function as a hedge when your investment portfolio is exposed to the upside.
When the value of gold increases, an investor's assets become riskier and buying a gold ETF could help mitigate that risk.
Alternatively, if a seasoned investor chooses to short gold after conducting extensive research, trading an inverse ETF could be an easy way to profit from plummeting gold prices.
A Gold ETF Versus a Gold Mutual Fund
Gold mutual funds involve investing in gold ETFs, which invest in physical gold bullion with a purity of 99.5 percent. Exit loads are not charged on gold ETFs, but these costs are charged on gold mutual funds if you sell your holdings before the end of the first year.
Moreover, mutual funds permit systematic investment plan investments, while gold ETFs make these investments difficult.
Seven Gold ETFs to Add to Your Investment Portfolio in 2022
You can look into a variety of gold ETFs, but before you add them to your portfolio, keep an eye on the performance of the more prominent options.
Examine their movements to see if they suit your portfolio's requirements. You'll probably find it much easier to begin investing in gold ETFs once you've acquired a good understanding of them.
Seven gold ETFs that are popular among investors are:
SPDR gold shares
UBS ETRACS CMCI ETN (UBG)
SPDR Gold MiniShares (GLDM)
Aberdeen Standard Physical Gold Shares ETF (SGOL)
GraniteShares Gold Trust (BAR)
ProShares Ultra Gold (UGL)
1. SPDR Gold Shares (GLD)
One of the biggest gold funds is the SPDR Gold Shares ETF. It had over 36 million ounces housed in vaults in London and other places for a NAV (net asset value) of over $63 billion. These ETF's shares are worth roughly 0.094 ounces of gold each.
The value of GLD moves in sync with the price of physical gold. Individual shares could be worth more or less than their corresponding 0.094 ounces of gold, depending on whether investors drive the value above or below the NAV.
At the time of its founding, SPDR gold shares were valued at a tenth of the gold price. However, because the fund charges gold investors a 0.4 percent yearly fee, the quantity of gold reflected by each share wanes significantly over time.
These fees gradually reduce the ETF's NAV, minimizing the quantity of gold that a single share is valued each year. Considering gold's long-term profits, this fee is relatively low. Since 1971, gold has returned around 10 percent per year, as per World Gold Council.
Small gold investors typically pay more than 0.4 percent annually for insurance and storage fees for gold bullion. As a result, gold ETFs offer a cost-effective way to invest in gold.
2. iShares Gold Trust (IAU)
iShares Gold Trust, like GLD, provides direct exposure to the daily volatility of physical gold. It's smaller, with $32 billion in holdings, and newer, having launched in 2005, but it's nearly identical to GLD.
However, IAU has lower fees, with annual charges of only 0.25 percent. On a $10,000 investment, this saves investors around $15 each year. It also offers a 10-year average return of 1.49 percent, which is somewhat higher than rival GLD's 1.34 percent.
3. UBS ETRACS CMCI ETN (UBG)
The E-TRACS CMCI Index is meant to follow the UBS Bloomberg CMCI Gold Total Return Index's performance. It involves investing in gold futures contracts instead of real gold. UBG, which began operations in 2008, has a 0.30 percent expense ratio and a NAV of $5.39 million.
4. SPDR Gold MiniShares (GLDM)
As an alternative to GLD, State Street introduced GLDM in 2018. The primary difference between these two funds is that GLDM stores less physical gold than GLD. It also has a smaller expense ratio than GLD, at 0.18 percent against 0.4 percent.
The MiniShares product is considerably less expensive, which might appeal to ordinary investors looking for a cost-effective method to add gold to their investment portfolio. Like IAU and GLD, GLDM is meant to track the performance of bullion prices minus expenditures and has progressed in sync with other ETFs since its inception.
5. Aberdeen Standard Physical Gold Shares ETF (SGOL)
Another popular exchange-traded fund is SGOL. This fund issues Aberdeen Standard Physical Gold Shares. SGOL, like other gold ETFs, tracks the gold's performance minus expenditures. With an expenditure ratio of 0.17 percent, SGOL is a good investment opportunity.
It is somewhat newer than its competitors, having started in 2009, and it's also a little smaller, with assets of around $2.7 billion. Modifications to the SGOL fund are easily visible on the fund's site, giving investors complete transparency into the fund's structure. Gold bars are kept in vaults located around the world.
6. GraniteShares Gold Trust (BAR)
BAR was introduced by GraniteShares to provide conservative precious-metals traders with an ETF that stores physical bars of gold and is required to conduct physical inspections of its vault biannually to ensure that it has the appropriate quantity of precious metals available.
Its purpose is to monitor gold's performance more closely. BAR is also among the most cost-effective ETFs in the industry, with a modest expense ratio of only 0.17 percent.
7. ProShares Ultra Gold (UGL)
ProShares Ultra Gold is a leveraged gold investment in futures contracts. A leveraged ETF, as opposed to a traditional ETF that follows an underlying commodity or index, is an investment fund that employs debt to boost returns.
UGL aspires to double the returns of its standard, the Bloomberg Gold Subindex, in a single day. It also features a daily reset option, which increases the risk and demands daily monitoring of the position. Rather than being a long-term gold ETF investment, UGL could be considered suitable as a trading instrument.
Final Thoughts
Gold investing is a great way to diversify your investment portfolio and protect yourself from economic turmoil, and gold ETFs are a great way to gain exposure to gold investments without having to purchase physical gold.
It is also a more cost-effective way to enjoy the benefits of gold price movements, and there are a number of funds for you to choose from.
Frequently Asked Questions
Here are answers to the most frequently asked questions about gold ETFs.
1. Is It Better to Invest in Physical Gold Bullion or a Gold ETF?
There are a number of ways that investors can profit from gold. If you're deciding whether to invest in physical gold or an ETF, you will likely find that gold ETFs are a more attractive option.
This is because physical gold is often less liquid and more challenging or expensive to sell. On the other hand, ETFs could be a more cost-effective and liquid option, particularly given that many funds have expense ratios that are as low as 0.17 percent.
2. What Affects Gold Prices?
The following factors influence the price of gold:
Supply and demand
Interest rates
Inflation
Government reserves
Fiat currency fluctuations
Import duty
3. What Are Inverse and Leveraged ETNs?
Gold ETFs that are inverse and leveraged are also popular. Since they do not retain the asset in a trust, these investments are more complicated than standard gold ETFs.
Rather, they are frequently traded as exchange-traded notes (ETNs) that represent the underwriter's debt obligations. The ETN's prices depend on a commodities index. It is reliant on the underwriter's creditworthiness and does not grant investors ownership of precious metals.
Short-term traders should avoid inverse and leveraged gold ETNs. They try to follow gold's frequent swings rather than long-term trends. Over time, the use of leverage can exacerbate the losses caused by volatility. Since the value of gold normally increases in the long term, inverse ETNs have negative returns.
4. How Do I Invest in Gold ETFs?
Follow these steps to begin investing in gold exchange-traded funds:
First, you will need to sign up with a broker and find a suitable gold ETF.
Assess the ETF to determine what its expense ratio and projected returns are.
Purchase the ETF.
The owners of this website may be paid to recommend Goldco. The content on this website, including any positive reviews of Goldco and other reviews, may not be neutral or independent.
Live Precious Metals Prices
Ahh, Idaho … the 'Gem State.' There is nothing far off the beaten path about Idaho's popularity as ...
Read More

→
The idea of retirement income likely evokes both excitement and anxiety – excited about a future of leisure ...
Read More

→
For many retirees, the ideal retirement involves the freedom to explore a life of leisure in a locale ...
Read More

→