Buy Precious Metals With BGASC
When it comes to great options for long-term investment, the gold quarter coin is certainly one of the surest ways to go. Historically, the price of gold bullion has been able to successfully withstand inflation, which is why today any form of precious metal investment is worthwhile.
While other precious metals, such as silver and platinum, can usually have a wide range of acceptable bars or coins that can be used as investment opportunities, that is not the case with gold. The gold quarter refers specifically to one coin, in particular, the Standing Liberty Centennial Gold coin. It should not be confused with the more common and less valuable gold-plated quarters.
This guide will look at the value of a gold quarter coin and weigh in on whether or not it is good for investment purposes. Before thinking of investing in gold quarters, you have to know exactly what this coin is and what differentiates it from other coins.
Gold Quarter Coins vs. Gold Plated Quarters
The Standing Liberty Centennial Gold coin made by the US Mint is the only officially recognized gold quarter. All other gold quarters are simply gold-plated quarters worth considerably less than the Standing Liberty Centennial Gold Coin. Check out our article on the best gold coins to purchase.
The Real Gold Quarter
Only 91,752 Standing Liberty Centennial Gold coins are in existence today after being minted out of west point minting location, with the "W" mint mark on the obverse side used to identify them. These gold quarters were minted in 2016 to commemorate the 100th anniversary of the Standing Liberty quarter design. In terms of composition, the gold quarter is 0.25 ounces of 24 karat gold.
This rare gold quarter is worth its weight in gold, and with a 99.99% gold composition, the current gold melt value for each coin in dollars is $474.24, according to the spot price of gold which stands at $1,896.96 as of April 30, 2022.
Gold Plated Quarters
A gold-plated quarter is very common, because a lot of gold plating companies have, over the years, taken standard coins and plated them with gold. Even though in most cases the gold plating is made of 24 karat gold, the coating is a very thin layer of gold that does not add much value to the original coin.
As long as the coin is not defaced, it is legal for any individual to apply gold plating to any coin of their choice. State quarters, issued in 1999, are among the most widely coated coins in the United States, as well as rare coins such as quarter eagles.
You might be wondering how much is a gold-plated quarter worth? In terms of actual value in dollars, gold plated quarters are not valuable and are usually only worth their face value, which is $0.25 which makes them a poor investment choice.
RELATED: The top pre 1933 gold coins to purchase.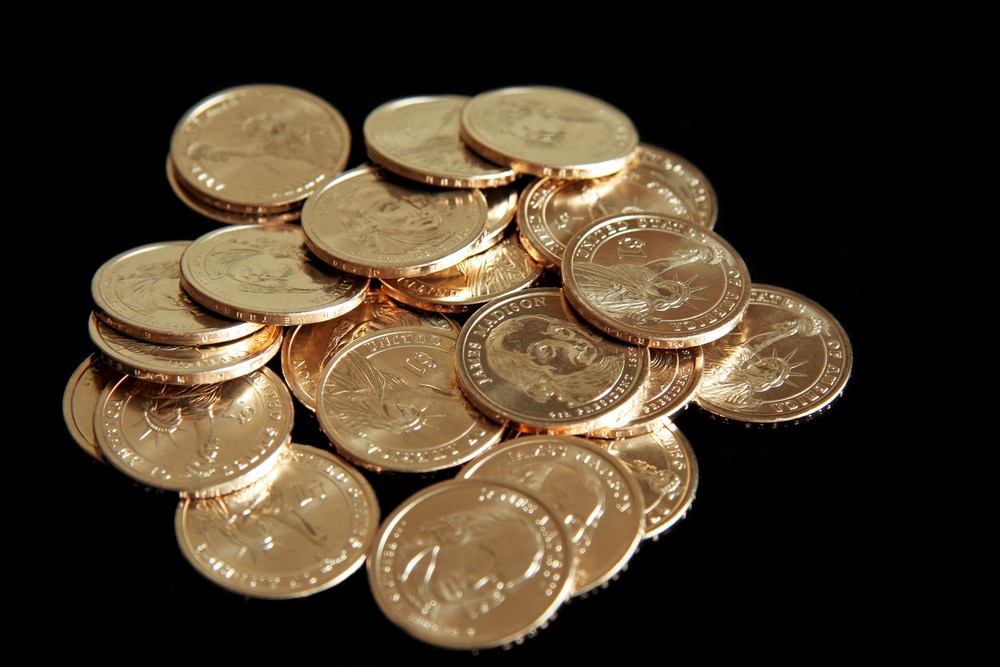 Is It Worth Investing in Gold Quarters in 2022?
If you can get your hands on an officially sanctioned gold quarter, then the spot price of gold alone should tell you what a great investment this is. The aftermarket value of genuine gold quarters, such as the Standing Liberty Centennial Gold coin, is based on its melt value, which fluctuates according to the spot price of gold. Here are two good reasons to consider investing in gold quarters:
Inflation over the next few decades is expected to rise drastically further highlighting the importance of making sound decisions over long-term investment. Gold quarters, like all precious metals, have the advantage of protecting you from the negative effects of inflation, due to their stability, compared to fiat currencies. As money loses its worth, gold quarters will gain in value during times when normal currencies are battling inflation.
Increase In Demand for Gold
Unlike gold-plated quarters, the value of gold quarters is tied to the melt value of gold in general. Therefore, an increase in demand for gold will also increase the value of gold quarters.
Various factors influence the price of gold, chief among them being the constant demand from government vaults and central banks. Gold also has a wide range of uses besides its importance in jewelry making. It has also become highly sought after in electronics, nanotechnology, and medicine.
Price History of Gold Quarters
Same as all other pure gold coins, from the moment they enter circulation, the price of gold quarter coins has been on a steady upward trajectory ever since they were first minted in 2016. To further illustrate this, here is a list of the year-end prices for the Standing Liberty Centennial Gold quarter since 2016:
2016 – $289.78
2017 – $324.12
2018 – $320.41
2019 – $379.87
2020 – $483.87
2021 – $438.70
Pros and Cons of Investing in Gold Quarters
The following is a brief outline of some of the advantages and disadvantages of investing in gold quarters that you should consider before deciding to buy move forward.
Pros
Protects against inflation because it is tied to the actual price of gold
Demand for gold will continue to increase
A well-regulated investment option with added security
24 karat gold is easy to liquidate in case you need emergency funds
Cons
No Returns Outside Capital Gains, for example, no rent can be charged on a gold coin
With Individual retirement accounts, no ownership of gold IRAs is allowed
High chances of being defrauded because a gold quarter looks a lot like gold plated quarters
An increase in value is very slow and gradual
Final Word
In such uncertain times in which global turmoil seems to be the order of the day, investing in something as valuable secure as a genuine gold quarter can be a great way to safeguard your future. The standing liberty centennial gold coin offers investors the opportunity to protect themselves from inflation by opting for a guaranteed return on investment.
Collectors have long since known the value of such investments and it seems everyone is catching on, as evidenced by the increase in the amount of gold that people bought recently. Now that you know that you know the true value of a gold quarter, it is time to do something about it.
Don't forget to check out our Acre Gold review.

Frequently Asked Questions
How Much Is a Gold Quarter Worth in 2022?
The value of gold quarters is tied to the melt value of gold bullion in general. Therefore, since the spot price of gold is $1,896.96 as of April 30, 2022, that makes the current gold melt value for each coin in dollars $474.24, since each coin is 99.99% pure gold.
What Does Face Value Mean and Why Is It Important?
The face value of gold-plated quarters is the value printed or depicted on the coin. This is important in circumstances where the actual value of the precious metals used to make that coming is more than the face value it depicts. The difference between the face value of a gold-plated quarter and a genuine gold quarter is staggering which means a mistake can be very costly.
Are Gold Plated Quarters Legal Tenders in the United States?
These quarters were originally minted as legal tender, but over the years they have been phased out in favor of non-precious metal fiat currency. From time to time the US Mint will release commemorative gold quarters, such as the 1999-P Delaware Spitting Horse Quarter, for the benefit of collectors.
The owners of this website may be paid to recommend Goldco. The content on this website, including any positive reviews of Goldco and other reviews, may not be neutral or independent.
Live Precious Metals Prices
BGASC
Buy Precious Metals

Fast Reliable & Trusted

Sell Your Gold Or Silver
Ahh, Idaho … the 'Gem State.' There is nothing far off the beaten path about Idaho's popularity as ...
Read More

→
The idea of retirement income likely evokes both excitement and anxiety – excited about a future of leisure ...
Read More

→
For many retirees, the ideal retirement involves the freedom to explore a life of leisure in a locale ...
Read More

→